Course details
【Number of groups limitation】 ★ Popular cuisine full pack! 7 specialty dishes "Kyoto Komachi course" with unlimited drinks 5980 yen (tax included)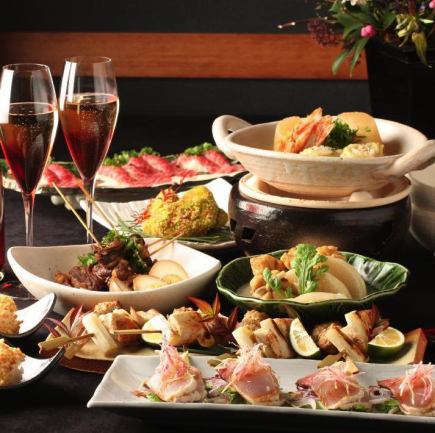 By using a coupon5980 yen
(tax included)
All-you-can-drink available

120 minute system (LO 30 minutes ago) There are preparations for dessert plate (1200 yen) or cake (2000 yen ~) on ※* anniversary.Please tell us at the time of reservation.
Reservation deadline

Until 21 o'clock on the desired shopping day
Available days for reservation

Monday - Thursday, Saturday and Sunday
We prepared a banquet course using seasonal ingredients.It is the most popular course of our shop, where you can taste handmade Kyo-nofu, Kyoto wind rushchar, ripe tomato oden, specialties, Kyoto's Oya oden dish, and deep-fried meat sushi.
Course menu
■ Homemade pumping out Kyoto Tofu
■ One item of topics subject to TV and media introduction,
Our most popular NO.1 "Whole whole ripe tomato & mozzarella"
■ Direct production directly!
Seasonal sashimi, Kyoto style carpaccio
■ Stewed boiled beef with soft boiled, juice, black egg
■ Specialty "Kyoto Kyo Oden Platter" or ■ Kyoto Prefecture Brand Name Brands, Kyoto Potter and Kyo Lettuce Steamed Steamed Pot
■ Introduced at Hirunandesu
"Braised Black Wagyu Beef's Exquisite Toro" - Tataki Ginger and Broiled Soy Sauce
■ Specialty product "Handmade, Sakura no Kyo Aisute and Kyoto sweets"
※ All you can drink is 2 people ~.
All-you-can-drink menu
· Suntory barrels
· Barley
Major shochu
· Potato shochu (black / white Kirishima) Miyazaki · wheat shochu (circle) Nagasaki Iki · brown sugar shochu (hatari) Amami Oshima · shiso shochu (Tatakata) Hokkaido
· Kaoru distilled spirit
· Oolong Hi · Green Tea High · Lemon Sour · Grapefruit Sour · Lime Sour.
·Plum wine
· Plum blossoms (Ousushubui) rock · soda · water split · ginger ale · iced tea etc.
·Sake
· Nada's local sake · hot spring · chilled sake
·wine
· Table wine from Bordeaux (red · white)
·Cocktail
· Cassis Orange · Cassis Grapefruit · Kitty · Cassis Oolong · Fuzzy Negble · Beach Grapefruit · Reggae Punch · Campari Orange · Campari Grapefruits · Spumoni · Shandygaaf and other cocktails.
·vodka
· Soda · tonic · ginger ale break etc.
·gin
· Soda · tonic · ginger ale break etc.
·whiskey
· Suntory angle (high ball · rock · water split · ginger ale break)
·Soft drink
· Oolong tea · Green tea · 100% orange juice · 100% grapefruit juice · ginger ale · iced tea.
Coupons that can be used with this course
2019/01/10 update