Course details
【Number of Groups Limited】 ★ Full of popular cuisine introduced on TV! 7 items of "Kyoto Komachi Course" where you can enjoy specialties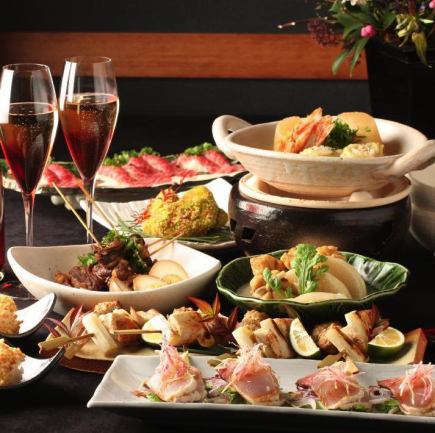 By using a coupon3800 yen
(Tax excluded)
Reservation deadline

Until 20 o'clock on the desired shopping day
Available days for reservation

Monday - Saturday, Sunday and public holidays - Holidays
We had prepared banquet courses using popular dishes introduced in the media.It is a seasonal course that you can taste handmade Kyo-tofu, sashimi sashimi karutochucho, ripe tomato & mozzarella, kyoto pork steamed roasted salad, and Kuroge Wagyu beef A 5 ranked in the end, and supreme "meat sushi".
Course menu
First, homemade pumpkin Kyo tofu
Second, direct delivery place! Seasonal sashimi, Kyoto style carpaccio
Three, cook researcher's certificate, cut-off boiled soft boiled stuffed with sesame paste, jellyfish, black egg
Four, a dish of topics subject to TV and media introduction,
Our most popular NO.1 "Whole whole ripe tomato & mozzarella"
Five, ZIP was introduced and was selected as the 1st place of the oden section
◆ "Kyoto Kyo Oden Oden Platter Assortment" or ◆ Kyoto Prefecture Brand Brand Name, Kyoto Potter and Kyo Lettuce Steamed Steamed Pot
Six, it was introduced at Hilnandes
A5 rank "roasted black wagyu beef's best meat sushi" - Tataki ginger and roasted soy sauce ~
Seven, specialty "Handmade, Kyoto sweets"
※ All you can drink is 6 people ~.
2019/01/10 update